A Closer Look at the New Wagoneer & Grand Wagoneer
The excitement is building around the coming arrival of the New 2022 Jeep Wagoneer and Grand Wagoneer and the buzz is apparent. Reviewers are getting their first drives in the luxury SUV vehicles that will begin arriving at Freehold Jeep later in 2021 and they're noticing passing vehicles slowing down to get a closer look and smartphones hanging out the windows to get some preview photos. It's the kind of attention you'd otherwise get when zipping along in a Lamborghini or Ferrari rather than a full size luxury SUV, but that's what the much-anticipated Jeep launch is generating.
Looking to gain dominance in the premium SUV class that is currently occupied by Chevrolet Tahoe, GMC Yukon and Nissan Armada, the Wagoneer and Grand Wagoneer have all the craftsmanship, technology, power and off-road prowess that does justice to its brand name to supplant those lesser equipped vehicles. The Grand Wagoneer was originally launched in 1962 as the first true luxury SUV, providing Jeep lovers with a passenger vehicle that offered the first automatic transmission and independent suspension available in a 4x4. Adorned with its iconic wood panel sides, the Grand Wagoneer was an instant classic that introduced many new innovations like the revolutionary Quadra-Trac® 4×4 system that propelled Jeep to the top of the SUV class. The new 2022 Wagoneer and Grand Wagoneer are poised to continue the legacy that the original started with ground-breaking features and amenities, exceptional power and performance, all contained in an ultra-stylish body.
2022 Jeep Wagoneer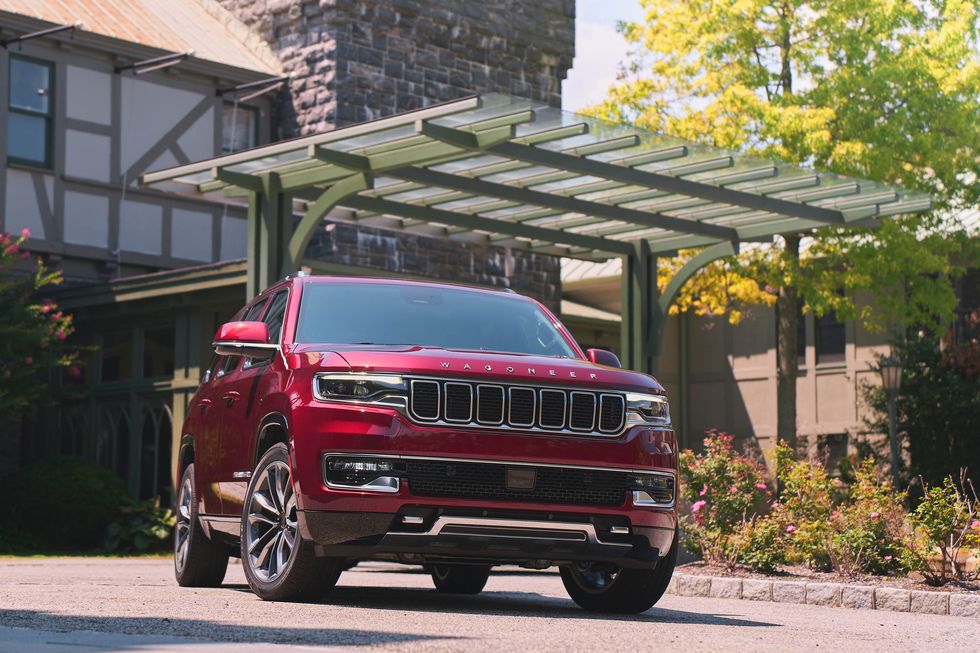 The 2022 Jeep Wagoneer comes in three distinct model trims - Series I, II and III. Each model features stylish LED lighting, a choice of 20 or 22-inch custom wheel designs and 2-wheel-drive or 4-wheel drive configurations. You'll have power to spare from the standard-equipped 5.7-liter V8 engine with an eTorque mild-hybrid system that pumps out 392 horsepower and utilizes 404 lb-ft of torque to conquer everything from accelerating onto the interstate or climb up steep rocky trails. The powerful motor yields an admirable fuel economy of 15 mpg city and 20 mpg highway for a combined 17 mpg.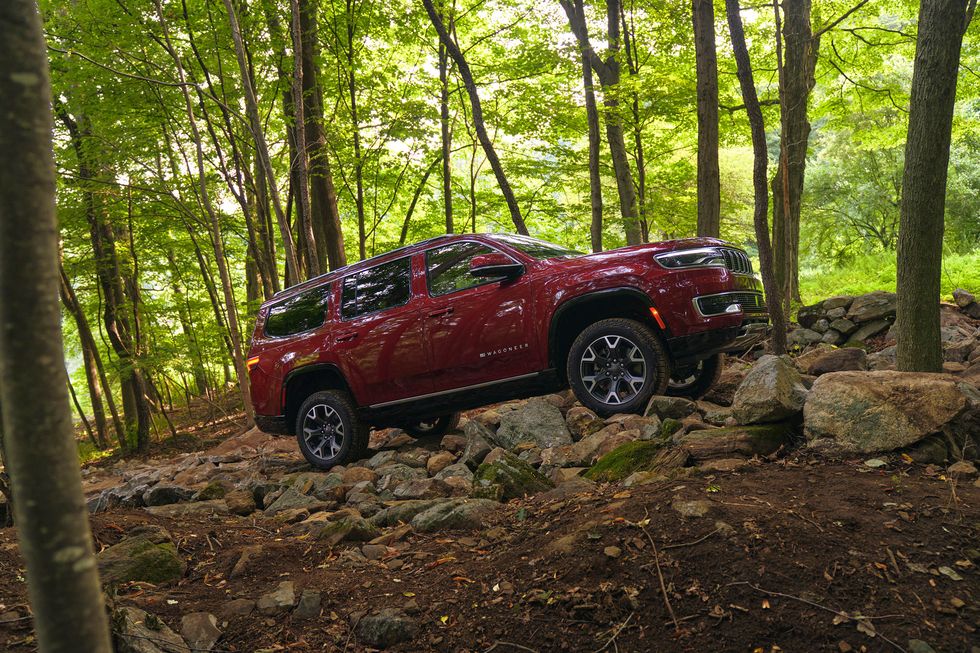 Wagoneer's Quadra-Trac I system utilizes a full-time all-wheel drive with a single-speed transfer case. The available Quadra-Trac II system boasts a two-speed transfer case to give you the flexibility you need to traverse any terrain. With a healthy ground clearance and clever engineering, the Wagoneer can navigate water up to a depth of 24 inches while keeping you and your passengers high and dry. It's hard to imagine that Wagoneer and Grand Wagoneer owners would subject their luxury SUV to this kind of rugged off-roading, but not unlike a sportscar driver that doesn't push the limits of their vehicle's speed, part of the allure is knowing it can if you wanted to. Because it's a Jeep, it has to be able to handle off-roading!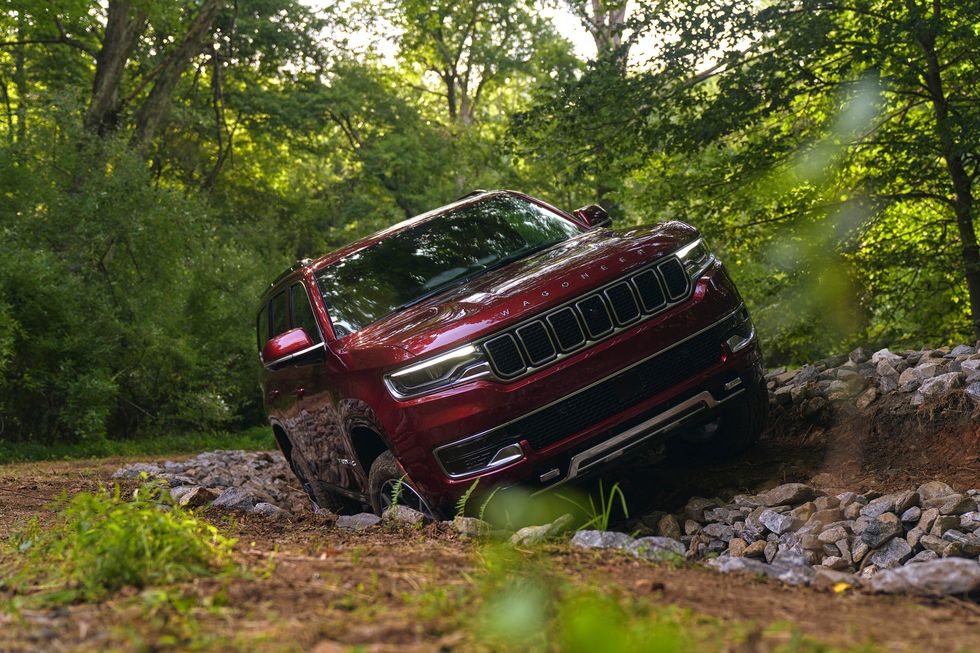 You can pre-order your 2022 Wagoneer today at Freehold Jeep to be among the first to own the new luxury SUV leader. The 2-wheel-drive model carries and MSRP of $59,995, while the 4-wheel-drive Wagoneer starts at $72,995. The Jeep enthusiasts at Freehold are excited about this new model launch and look forward to seeing our customers take their first test drives in these extraordinary vehicles.
2022 Jeep Grand Wagoneer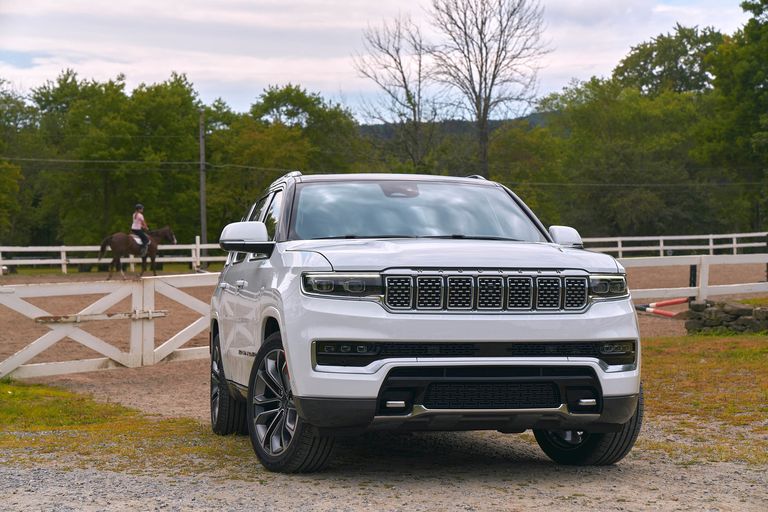 Move over Grand Cherokee. There's a new flagship entering the showroom and it's raising the bar to an unprecendented height. The first drives taken in the new standard-bearer for luxury sport utility are unanimously glowing. Available in the same Series I, II and III as the Wagoneer, the Grand Wagoneer adds a stunningly fully-loaded Obsidian edition to the lineup. Each similarly feature space-age designed LED lighting, but go beyond the ordinary styling with available blacked roof, unique grille and hood styling and 3 additional color choices over the Wagoneer.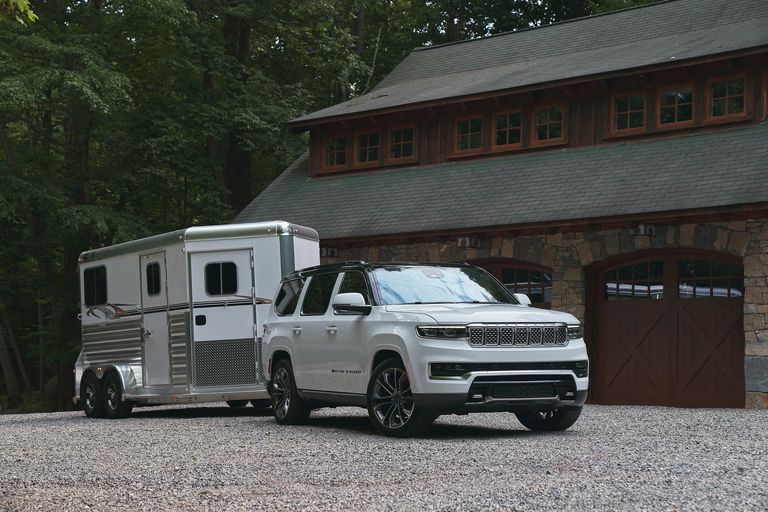 You can choose between distinctly designed 20-inch and 22-inch wheels or opt for the 17-inch wheel option with mammoth 32-inch trail-rated tires to command off-road terrain. To power those wheels, Grand Wagoneer sports a hefty 6.4-liter V8 engine that churns out 471 horsepower and 455 pound-feet of torque. Together with its 8-speed automatic transmission you'll experience surprising acceleration and response at every RPM - pushing the full-size SUV to reach 60 mph in just 6 seconds. You can expect to get 13 mpg fuel economy in the city and 18 mpg on the highway, combining for a 15 mpg fuel economy rating. Not bad for the size and power of this vehicle.
Like its predecessor, the Grand Wagoneer features revolutionary independent front and rear suspension and powerful 4-wheel-drive that propels you easily over jagged terrain even when there may be only 2 wheels on the ground. The available Quadra-Lift air suspension system allows you to gently raise or lower the Grand Wagoneer for easy entry and exit or even to provide better aerodynamics with a lower profile on the highway or to provide maximum off-road geometry: 25-degree approach angle, 24-degree departure angle, 22-degree breakover angle and 10 inches of ground clearance. Off road entusiasts can opt for the 4WD Advanced All-Terrain Group, that features skid plates covering the fuel tank, transfer case and front suspension, rear limited-slip differential with an electronic locker, two-speed transfer case and a 3.92:1 axle ratio, allowing for an outstanding 48:1 crawl ratio.
What is most impressive about the Wagonner and Grand Wagoneer is the satisfying ride it has on paved roads, where it will most likely be spending most of its mileage. It has the feeling of a large sedan rather than a big oversized truck, like the ponderous ride of the Cadillac Escalade and Lincoln Navigator. You'll find that its European counterparts like the BMW X7 and Mercedes-Benz GLS are more refined, but seem to isolate the driver from their surroundings. The Wagoneer strikes a welcoming middle ground that gives you a smooth, quiet ride while keeping you connected to the road.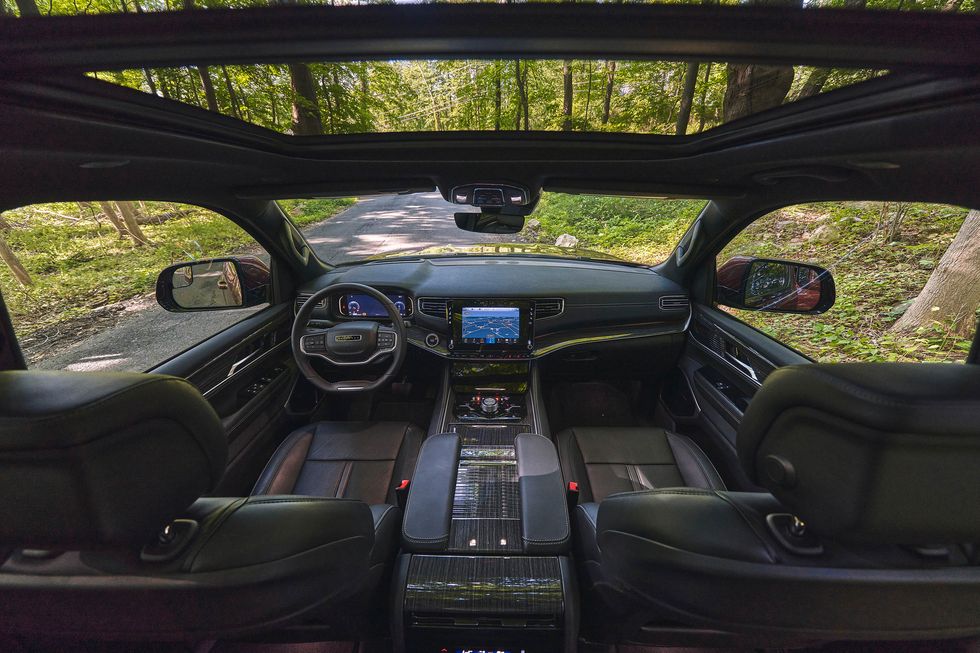 The interior of the Grand Wagoneer is a study in luxury automotive comfort and technological advancements. Each seat is meticulously covered in finely crafted leather with constrasting stitching with the fron and second row seats equipped with complete heating and cooling climate controls and 5 different massage settings. The volumous front seat center console has its own cooling feature and can fit a six-pack of beverages.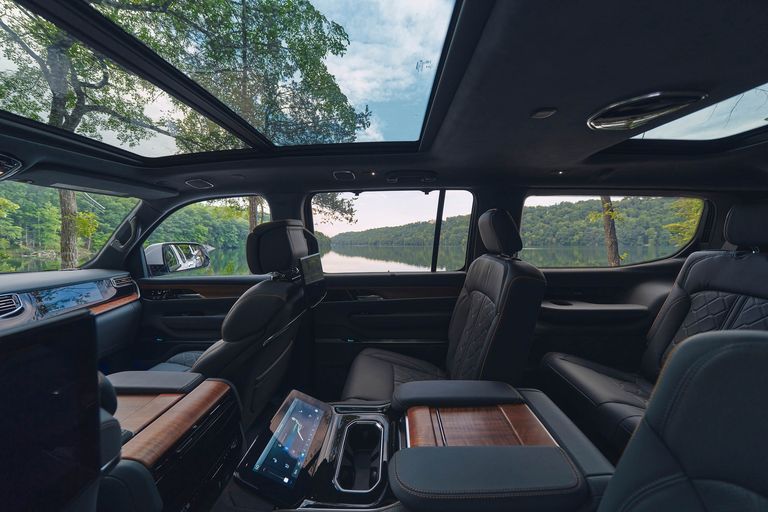 Everywhere you look in the Grand Wagoneer's impressive cabin there is a screen! The digital gauge cluster is contained within a large 12.3 inch dashboard display and is complemented by a fully-configurable heads-up windshield display. The 12-inch center display houses the Uconnect 5 multimedia system for all your device connectivity and media entertainment choices. Each touchscreen user interface is clear, easy to use and simple to customize. The system provides wireless Apple CarPlay and Android Auto and the ability to connect two phones at once. Below that is another large 10.3-inch display for all your climate zone controls. To the right in front of the passenger seat is yet another screen so your shotgun can view navigation, exterior cameras, Fire TV or additional entertainment through either the rear seat system or an HDMI cable. It has the ability for the passenger to look up navigation info and send it to the driver's center console screen, but is also polarized for directional viewing only from the passenger seat, so as to not distract the driver. When the Grand Wagoneer is parked, all screens can display content.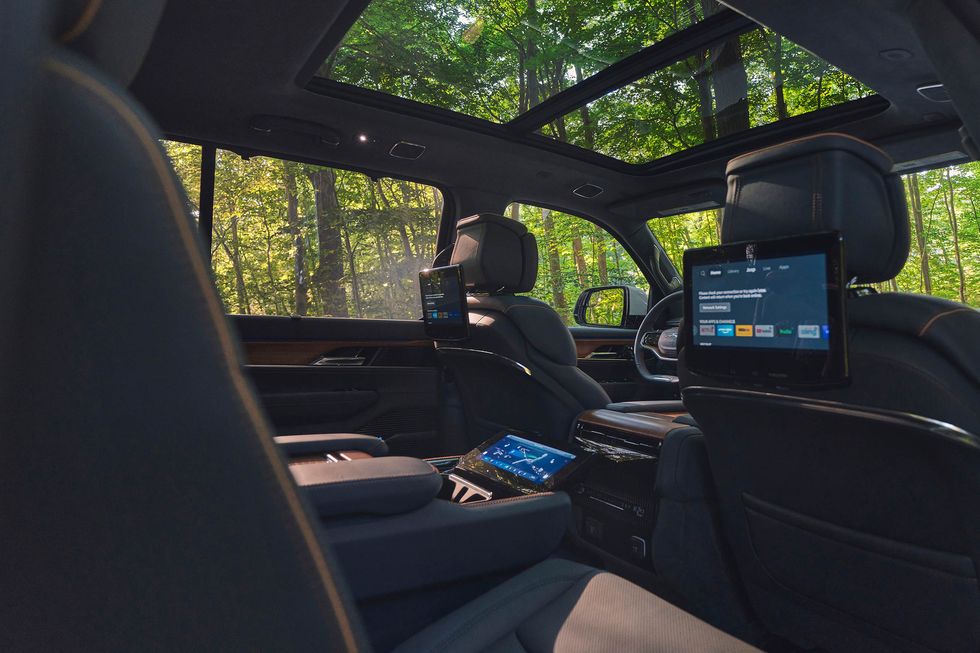 Second row passengers enjoy their own center mounted comfort control screen along with 2 10-inch rear entertainment displays with FireTV and external device mirroring capability.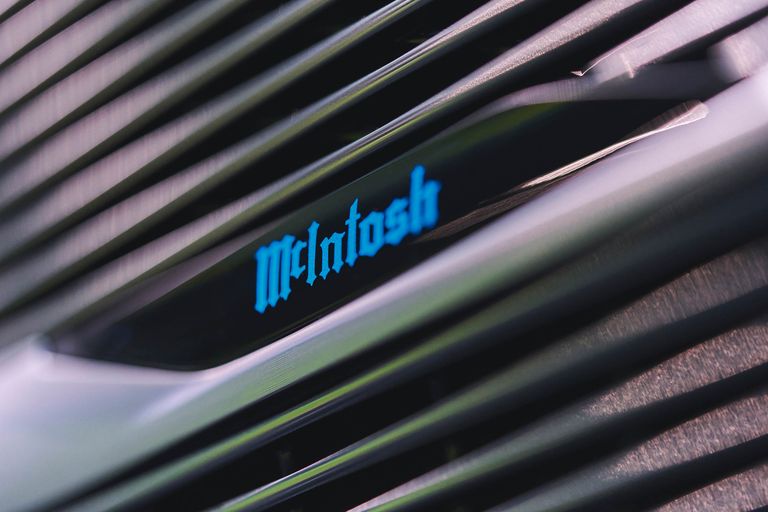 All the media is funneled through an earth-shaking 1375-watt 23-speaker McIntosh premium audio system exclusively designed for the Grand Wagoneer's relaunch.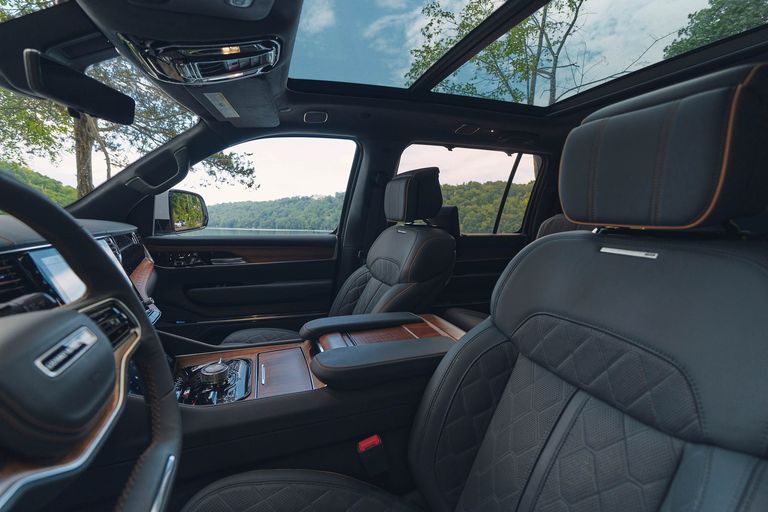 Take in your surroundings in all directions with the stunning arrays of panoramic sunroofs that open above each of the Grand Wagoneer's 3 rows.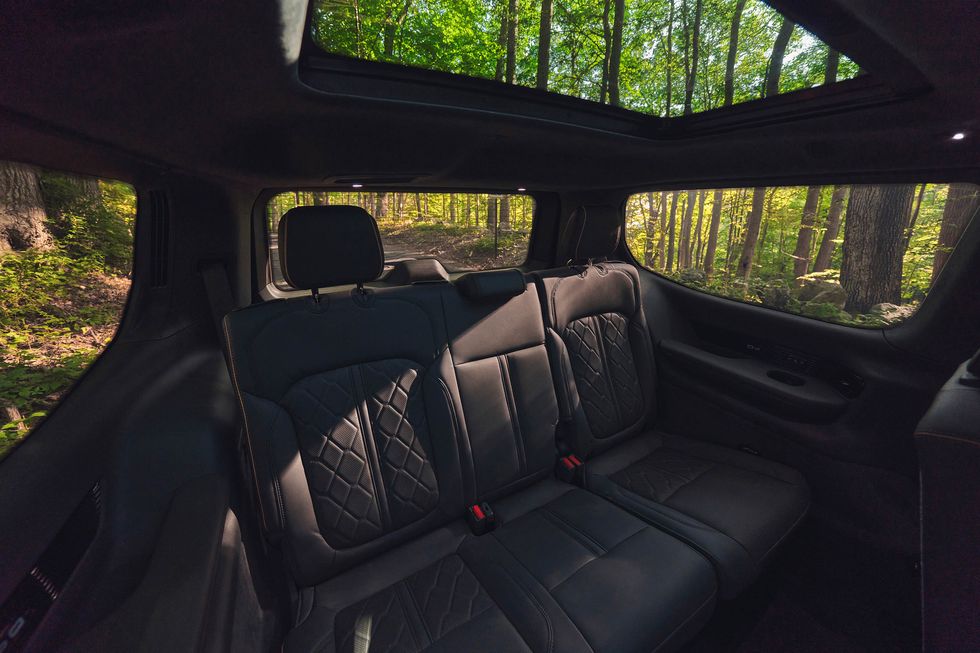 Grand Wagoneer's impressive size allows for even a 6 foot tall reviewer to easily access and comfortably sit without knees contacting the second row seatbacks.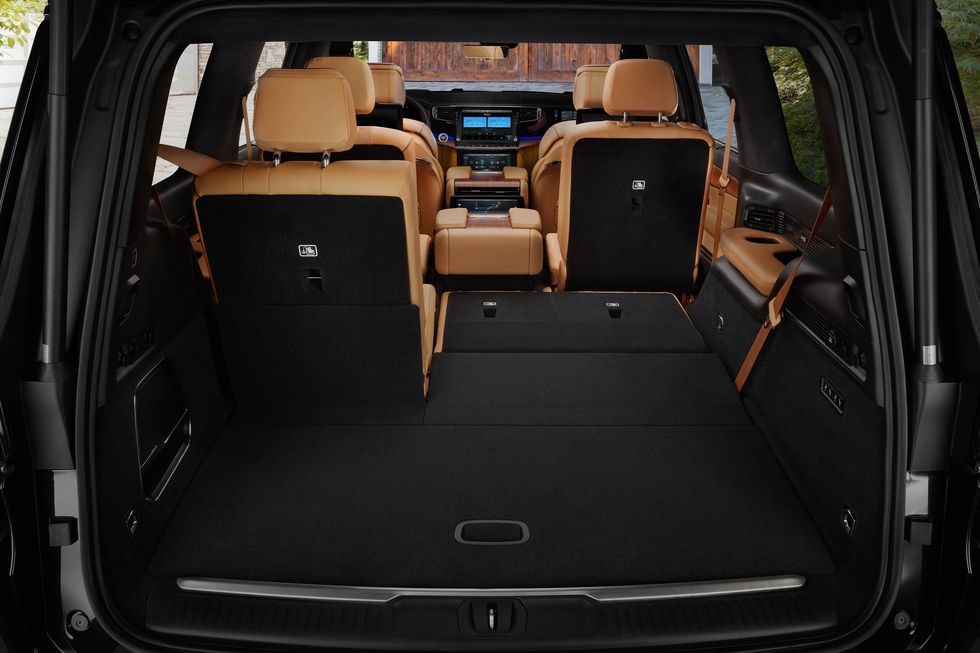 When you're in need of cargo space, Grand Wagoneer delivers in force. Even with the 3rd row seats up you can take advantage of its exceptional size with 27.4 cubic feet of storage area.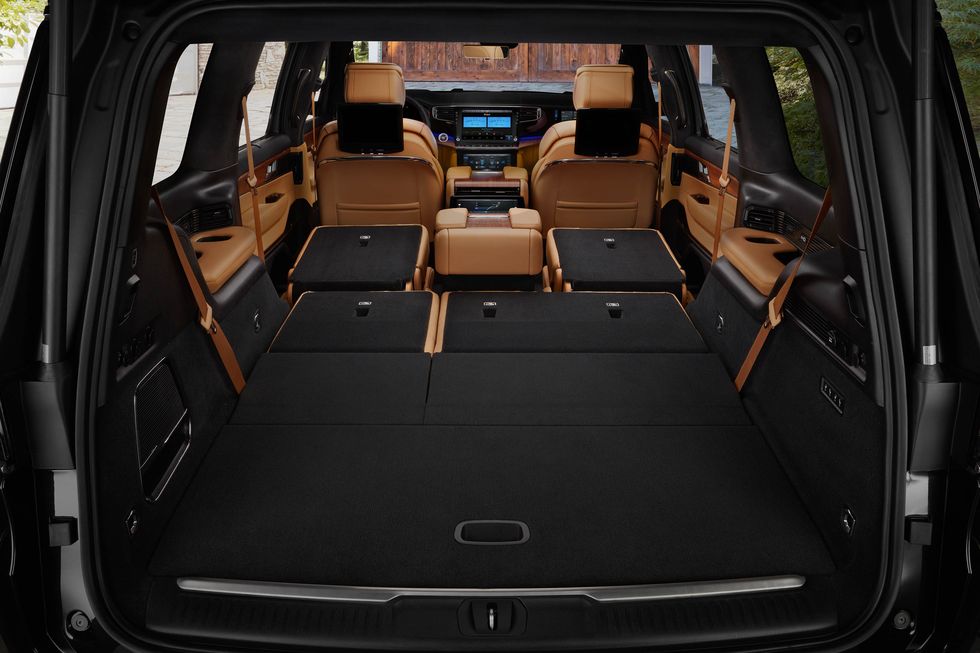 When you need every inch of room it can provide, folding down the Grand Wagoneer's 2nd and 3rd row seating to open up a cavernous 94.2 cubic feet of cargo volume.
Arriving late in 2021, the Grand Wagoneer is set to start at $88,995. Contact Freehold Jeep today to reserve your spot to be among the first to test drive this incredible premium luxury SUV and be a part of the next revolution.
The Final Word
The New 2022 Jeep Wagoneer and Grand Wagoneer are carrying forward a rich legacy from the first name in sports utility vehicles. They are big, functional, luxurious SUVs that ride smoothly and responsively and have rich creature comforts for the driver and their passengers to enjoy a long road trip as much as a run to the store. They are poised to take on their premium luxury SUV competition head on with a clear shot at claiming top honors in this competitive class. The staff at Freehold Jeep is excited about these vehicles and look forward to your Wagoneer test drive in the Freehold NJ area.